Have you been thinking about taking on a new home improvement project? A home replacement siding project is one of the most valuable things you can do in terms of increasing value to your house.
Depending on the material you choose, you can expect to recover between 63 and 76% of the total cost of the project in resale value.
With so many different siding materials available, however, it can be hard to know how to make the right choice for your home. We're here to make it a little easier for you. Keep reading to learn about the pros and cons of different home replacement siding so you can make the right decision for your home.
Fiber Cement Siding
One of the most popular types of home replacement siding is fiber cement. This durable material is made from a mixture of sand, water, cement, and cellulose fibers. This results in a beautiful siding material that has the look of wood siding, with none of the maintenance requirements.
Here at SmardBuild, we use James Hardie fiber cement siding, which is nationally recognized as the best manufacturer on the market.
Pros and Cons of Fiber Cement Siding
As we briefly mentioned above, fiber cement siding is one of the most durable siding materials available and it requires very little maintenance to keep it looking great for years. It's also resistant to fire, pests, and issues like moisture and rot, so you never have to worry about the condition of your home's exterior.
While fiber cement siding can be a bit more expensive than other siding materials, many of the homeowners we work with believe it's well worth the cost for what you get in return. Aside from that, there really are no disadvantages to choosing fiber cement siding for your home.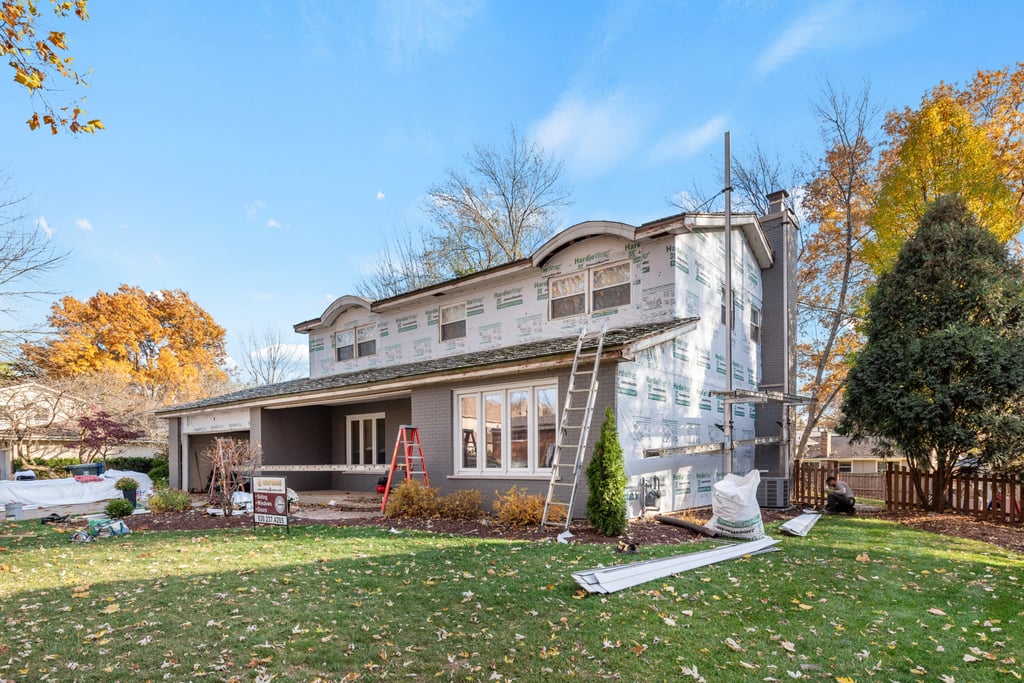 Vinyl Siding
Vinyl is another popular siding option that we offer to our customers here in the greater Chicago area. Vinyl siding gives your home a classic look and comes in a variety of styles and colors, so you're sure to find something that fits your aesthetic.
Pros and Cons of Vinyl Siding
Like fiber cement, vinyl siding is also a durable and low-maintenance material. Unlike some siding materials, the color doesn't chip or scratch off over time, so you'll never have to worry about painting it. It's also a relatively inexpensive material, which makes it a great option if you're renovating on a budget.
One thing to keep in mind if you choose vinyl siding is that it's not the most environmentally friendly option. If you're trying to go green, you might want to choose a different material.
Wood Siding
Homeowners looking for a classic, rustic look may opt for wood siding for their homes. Wood siding comes in countless colors and styles, with planks available in different sizes and shapes to help your home look uniquely yours.
Pros and Cons of Wood Siding
One of the biggest advantages of wood siding is that it's very customizable. You can stain or paint it virtually any color, so your home's curb appeal is totally up to you. It's also an environmentally friendly option, as it doesn't contain any pollutants and it's biodegradable.
However, if you don't like the idea of spending your free time taking care of your siding, wood might not be the best choice for your home. It requires a lot of maintenance to help prevent moisture damage and you'll have to paint or stain it again every few years. It's also susceptible to fire and pest damage, which could lead to costly repairs down the road.
Metal Siding
Finally, metal siding is another popular material, since it comes in different panel styles, including shingles and vertical strips. You can choose metal siding made from aluminum or steel, depending on your budget and the look you want.
Pros and Cons of Metal Siding
Homeowners love metal siding for its unique look and its durability. Since metal is one of the toughest materials on the market, it's made to last for years and requires very little maintenance. It's also an energy-efficient material that can help keep your home at a comfortable temperature.
If you're trying to stick to a set budget, keep in mind that metal siding is usually more expensive than other materials. It can also be prone to dents over time and replacing panels can be tricky and costly.
Schedule Your Home Replacement Siding Project
Now that you know more about the most popular home replacement siding materials, it's time to start thinking about your own project! For the last 15 years, we've been working with homeowners like you, providing high-quality craftsmanship and unparalleled customer service throughout every project.
We'd love to help you make the right siding choice for your home. Contact us today to learn more about our services and to get a quote for your project.
Did you know that updating the siding on a home adds a significant amount of resale value to a house? Beyond adding monetary value, new siding also enhances the curb appeal of your home.
Whether you're getting your house ready to sell, or you just bought a new house that needs a little love, replacing the siding can make a big impact. There are lots of new popular siding trends that we'll be seeing in the years to come. Keep reading to learn about seven siding replacement trends to follow in 2021.
1. Eco-Friendly Siding
Homeowners in 2021 are all about going green. Using eco-friendly siding materials is a great way to reduce your carbon footprint. This is relatively easy to do since most siding materials are eco-friendly, reusable, and recyclable.
Along with using green materials, there's a trend towards choosing durable siding. Recently priority has been placed on using quality building materials that will last a long time.
Homeowners only want to deal with minor repairs or replacements. Stay on trend this year by choosing siding replacement materials that are meant to last.
2. Fiber Cement Siding
Fiber cement siding is one of the most recent developments in siding. It is made to resemble wood, which gives the exterior of your home another layer of texture while keeping its classic style. It's one of the best eco-friendly, durable, and low-maintenance options for siding in the market today.
One of the most popular brands of fiber cement siding available today is James Hardie siding. You can get it in a wide variety of colors and it's slow to fade, meaning it won't need to be repainted often. It's also great because it can stand up to harsh weather conditions, including those long and cold winters in Naperville and Wheaton.
3. Vertical Vinyl Siding
Are you looking for a low-cost, low-maintenance siding without giving up on style? Vinyl siding might be your answer! It's available in a range of textures, colors, and styles. Vinyl siding makes it easy to modernize a home and adds to its curb appeal on a budget.
Usually, vinyl siding is placed horizontally, but homeowners are moving towards the vertical trend. Having vinyl siding installed vertically will give your home a unique look and add character.
Vertical siding is also easier to clean because water can flow down the siding. Another benefit is that placing siding vertically makes it more durable and extends its lifespan.
4. Mix and Match
Another popular trend in 2021 is mix and match siding. Homeowners are using different sizes and styles of cladding on their homes. While this method isn't new, homeowners today are using more unique and modern combinations.
One way to use the mix and match method is to use boards of different widths in the same area to create a rustic look. Or you could use different siding styles in different areas of the exterior of your home. No matter what you choose, the mix and match method will add instant curb appeal to your home!
5. Add a Splash of Color
Unlike brick or stone, vinyl can be instantly transformed with a fresh coat of paint. Homeowners are gravitating more towards darker colors these days. If you want to choose an on-trend paint color, think about dark grey, blue, cobalt, or charcoal.
You can also use accent colors to add contrast to your home. If you're looking to refresh the exterior of your home in 2021, think about using both light and dark colors. Choose a siding color that you can pair with either a darker or lighter color. Then use the second color for the trim to create depth and drama.
6. Add Texture
A big design trend for 2021 is incorporating visual texture into the exterior of the home. By adding visual texture to certain parts of the home, you can add to your home's character and highlight any unique architecture. Siding is the most popular and easiest way to add visual texture to your home.
There are lots of ways to add texture to your home. As discussed above, using a mixture of light and dark colors will give your home more depth. You can also use shiplap, board and batten, or shake shingles to increase the exterior texture. These textural siding styles are expected to take off in 2021.
7. Bring the Exterior Siding Inside
Farmhouse-style decor has taken off, and with it comes the trend of bringing the outside design inside. One of the most popular ways to do this is in the entryway of the home. Designers are using the same cladding in both the entryway and the exterior of the home. A great way to do that is to use oversize siding panels.
Ready to Update Your Home With One of These Siding Replacement Trends?
Now that you're up to speed on the top seven siding replacement trends for 2021, are you ready to update the exterior of your home? From changing up the color to adding some serious texture, there are lots of ways to give your home the refresh it needs.
Do you have a specific vision for the exterior of your home? Or maybe you're in need of new siding but aren't sure exactly what you want. Either way, the experts at SmardBuild are here to help. Contact us today to start the journey of turning your house around!
Home renovation projects are never as easy as they look on reality shows. If you've ever tried to take on a project like choosing and installing new siding, you're painfully aware of this.
Some things are just better left to the professionals. If you are ready to update or install new James Hardie siding, there's only one siding company in Naperville that's got you covered. Read on to learn more.
How to Choose a Siding Company
Choosing a siding company can be overwhelming. Just searching "siding contractors Naperville" is going to pull up results from all over the country. What you specifically need are siding contractors who know the Naperville area and how to deal with the distinct needs homes in the city have.
When it comes to James Hardie siding, you also want to make sure the siding company knows what they're doing. Not just any contractor can work with this material, so you'll want to double-check that they are James Hardie Contractor Alliance Program members. (And, yes, SmardBuild is a preferred James Hardie contractor!)
What Is James Hardie Siding?
James Hardie siding is an excellent option for someone who wants the look of traditional wood siding but without the constant upkeep. It's cheaper to install and is much more weather resistant and fade resistant than wood or even vinyl.
It's made out of fiber cement and is created for specific climates similar to Naperville. Whether you're looking for traditional lap siding, shingles, or trim boards, James Hardie siding is an excellent option.
The Benefits of James Hardie Siding
James Hardie siding has significant benefits over traditional wood or vinyl siding.
The main thing is that it's incredibly strong and weatherproof. With vinyl or wood siding, you'll need to worry about weathering and fading, which is not something that happens with James Hardie siding.
It's also rot and moisture resistant. Water and rot damage happens easily with wood siding, and the upkeep and maintenance can be astronomical both in money and time spent.
James Hardie siding also doesn't ignite or melt like wood or vinyl siding. It's not combustible, so it won't add fuel to the flames in the unfortunate situation of a house fire.
It's also not a tasty snack or an inviting home for pests like insects and birds. Termites want nothing to do with fiber cement!
How Much Is James Hardie Siding?
The major benefit of James Hardie siding is the cost associated with it. For example, a 1,500 square foot home can expect to pay between $13,000 and $22,000 for James Hardie lap siding.
Final Thoughts on Choosing a Siding Company in Naperville
When choosing a siding company in Naperville for your James Hardie project, you want to choose a company that knows siding inside and out. Especially when it comes to a product like James Hardie.

Contact us today to chat with one of our specialists about your project. We'd love to talk through your project and budget and get you a quote so you can plan for your new siding!
Fiber cement siding is one of the types of cladding that has been around for a long time. It's said to be more durable and maintenance-free than other materials like wood, vinyl, or aluminum. But what are the advantages? And how do you know if it will work for your home?
In this article, we'll discuss fiber-cement finish: everything you need to know, including:
Fiber cement siding labor costs,
Fiber cement siding pros and cons
Potential issues with fiber cement covering.
Reasons to Use Fiber Cement Siding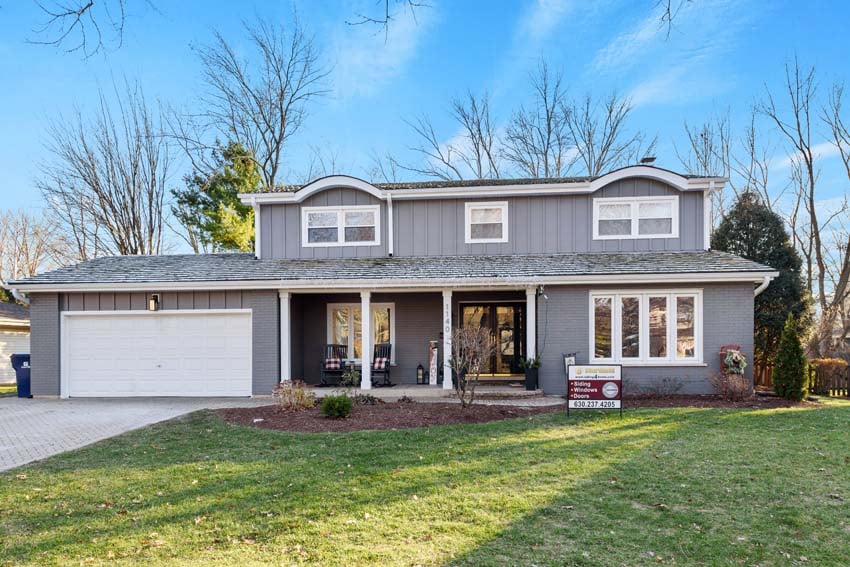 Fiber cement cladding is more durable than other siding materials, making it last for decades without any exterior work.
Low Maintenance:
Because fiber cement needs virtually no upkeep or cleaning, you'll save time and money on this type of siding material.
Environmental Impact:
Though many different types of natural resources go into the production process, from plants to wood chips and limestone rock, fiber cement does not use chemicals, making it an eco-friendly option.
Installation Cost & Process

There are two ways you can install fiber cement covering onto your home's exterior walls; horizontally along the length of a wall with vertical boards or vertically in a brick pattern over the length of a wall.
Durability & Quality:
The quality and durability of fiber cement sides are unparalleled compared to other types of exterior cladding. This makes it an excellent choice if longevity is what you're looking for that can withstand all sorts of weather conditions without cracking or breaking apart--even after decades!

Though there's no standard pricing structure for this type of material, expect to pay around 13-15 dollars per square foot when buying new boards, with the labor running about $900-1100.
The cost for materials runs anywhere from $11 per square foot to as much as $17 per square foot. The labor cost runs approximately between $700 and $850, depending on how many siding panels you need to be installed.
How to install fiber cement siding?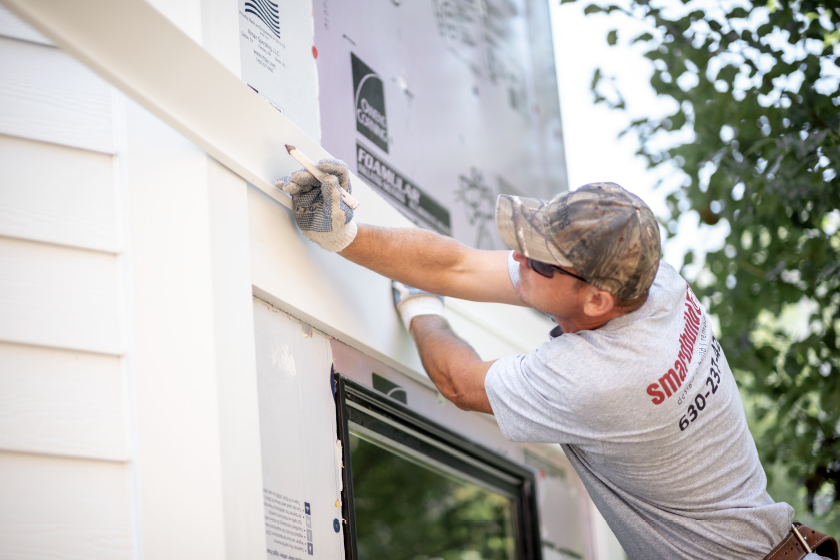 Fiber cement sides are installed in various ways, but one way that's used most often uses metal or wood structures to hold up the boards during installation. Unfortunately, this method leaves large gaps at either end when it comes time for caulking or painting, so be sure to consider this before making your purchase.
If you're looking for something sleeker that doesn't involve any space issues around corners, then another fiber cement installation method would work better for you. You can have your cladding installed by gluing it together with a special adhesive and then affixing the panels to an exterior wall.
How Long Fiber-Cement Siding Does It Last?

Fiber cement lasts at least 50 years but will vary depending on how well you take care of it over time (i.e., weatherproofing). In addition, you'll need to be sure that these materials are protected from water damage, as they're susceptible to frost heaving or spalling when too much moisture is allowed into the material.
This means caulking gaps between boards where possible and painting them regularly to keep up with any chipping paint or discoloration.
What Is Fiber Cement Made Of ?

The fiberboard used for this type of finish is made from recycled and natural materials, a bonus for the environment.
It's about as strong as concrete cladding but doesn't require any additional support because it tends to be lighter than aluminum or steel covers.
Fiber-cement is a great option for people who want to enjoy safety and durability benefits but don't mind spending a little more time on maintenance.
Choose SmardBuild for Your FiberCement Siding Project
As your local Chicagoland siding experts, we're ready to help you make a decision on the best exterior siding solution for your specific home. We're proud to offer free quotes and we make it easy to schedule a consultation by phone or by filling out a form here on our website.
Still have questions about Hardie Fiber Cement or other siding options? We'd love to answer them for you! You can also check out some of our James Hardie Siding blog posts.
Get in touch with us and get one step closer to the remodel you've been dreaming of.
~Marek Smarduch, SmardBuild Owner & Founder
Rough winter weather does a number on wood houses in the greater Chicago and Naperville area. From temperature changes to wind-blown debris to lots of moisture, wood siding takes a real beating around here.
That's why so many homeowners in our area are making the switch to fiber-cement siding, which is the siding of choice in nearly 15 percent of new homes going up today.
If you're finding the maintenance of wood siding in Chicago more than you want to deal with, take a look at what James Hardie siding has to offer. The benefits make it an easy choice over wood as well as vinyl and even brick.
1. Classic Style
James Hardie siding mimics the look of traditional wood siding or cedar shingles, allowing you to keep a classic style or look that fits with your home's architecture. Your options run from lap siding and vertical siding to shingle siding and panels. Any of these can be great options for a historic home or fit in with extremely contemporary styles as well.
Fiber-cement siding is made from wood fibers along with cement, and the embossed texture gives it the wood-grain look that makes it suitable for any home. It comes in a variety of colors or you can paint it to suit your home's palette.
2. Resale Value
If you're concerned about what future buyers might think, keep in mind that fiber-cement siding has proven to provide a better return on investment than natural wood or even engineered planks.
Fiber-cement siding is ranked as an upscale project, and you can expect to get back the majority of your initial spend when you sell your home.
3. Great Protection
Because James Hardie siding isn't wood, it doesn't have the same downsides to that material. It's naturally resistant to fire, insects, and rot. Compare that to vinyl siding, which feeds flames, or wood siding, which is a haven for termites and moisture damage.
4. Durability
Fiber-cement siding is amazingly durable, holding up to being pelted by hail, even. It's zoned for our area and the specific weather elements we face here, so you can be assured it will last a long time. And at 30 years, James Hardie offers one of the best warranties available.
5. Going Green
If you like the look of wood but have been concerned about the depletion of our forests, know that James Hardie siding is an environmental plus. It's made with cellulose fibers, which don't come from endangered tree species, and no toxic materials are used in production.
Looking for James Hardie Siding?
If you're looking to upgrade the exterior of your home, you can't go wrong with James Hardie siding. It gives you the classic look of wood with less maintenance and better durability. Choose from classic colors or plan to paint it to boost your home's curb appeal.
Looking for James Hardie in Naperville and the surrounding area? Contact us to talk about a plan for your home's exterior using fiber cement siding. We're part of the James Hardie alliance program and one to siding contractors in Naperville.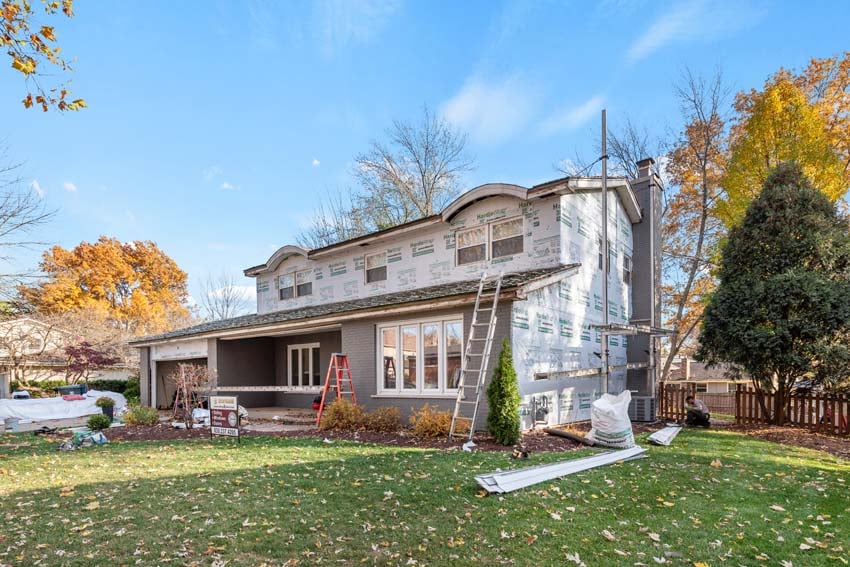 ~Marek Smarduch, SmardBuild Owner & Founder
When it comes to choosing a material for your exterior remodel, you should be looking for a product with great longevity. Investing in new siding for your Chicagoland home means doing some research into which products are high-quality and which products will hold up for years to come. As your local exterior remodeling experts, we recommend that our customers go with HardiePlank, the industry's favorite siding solution manufactured by James Hardie. Not only is this a smart investment for longevity and durability, it also comes with a 30-year non-prorated, transferable warranty!
Interested in learning more about HardiePlank's longevity? We're broken it down for you below.
Why Is HardiePlank So Durable?
As the name suggests, fiber cement siding is in fact made in part from cement. This is strengthened by sand and cellulose to fortify the board, creating a unique composition. HardiePlank stands up against moisture, pests, fire, cracking, and other common siding issues well-known to homeowners with vinyl siding.
In comparison to vinyl siding, HardiePlank is also denser and thicker. With an average thickness of only .03", vinyl siding isn't as hearty with a hollow underside. HardiePlank is half an inch thick and is also completely solid. With this sturdy and reliable make up, James Hardie Siding is known for its ability to withstand the harsh Chicago weather year round.
How Long Does HardiePlank Actually Last?
Because of this hefty fiber cement composition, HardiePlank regularly outlasts brick or stone home exteriors. If something were to happen down the road, James Hardie is proud to offer their industry-leading warranty that unlike other manufacturers, doesn't decrease coverage over time. That means you can rest easy knowing you're covered no matter what happens for decades to come.
An investment in HardiePlank is a strong investment for your home's value and for your peace of mind. Who wouldn't want to have the best protection on their new siding for 30 years?
How Does HardiePlank Last in Chicago Weather?
We know that the weather in Naperville, La Grande, Glenview and surrounding areas can be brutal in the winter, so it's crucial to make sure the siding solution you choose for your home can withstand all that mother nature throws at Chicagoland. The weather can be tough, but HardiePlank is tougher.
One of the unique factors that makes HardiePlank so durable and such a great option for our area is the Hardie Zone technology that James Hardie products are engineered with. Depending on the region, HardiePlank is designed specifically for the elements that homes will face. Years of thorough testing has produced a range of products that are tailored perfectly to our part of the country, or what James Hardie calls, HZ5.
No matter the freezing temperatures, blanketing snow, or dangerous ice, your HZ5 HardiePlank will hold up and protect your home for decades. Another bit of good news for homeowners who choose to go with James Hardie Siding is that their fiber cement products are not only durable and weather-resistant, but also very low maintenance.
Extend the Life of Your HardiePlank: Our Tips and Tricks
While there is an amazing 30-year warranty, there are some tips and tricks that we tell our customers to use if they want to keep their home's exterior not only functional but also looking its best. Because of the low maintenance required to keep it looking great, there are just a few tips that will help you keep your siding look brand new, even decades down the road!
Take It Easy
It might look satisfying to see a home's exterior cleaned by a power washer, but we promise it's not very fun to do yourself. Luckily, HardiePlank only requires a low pressure garden hose to rinse off any dirt, debris, or pollen depending on the time of year. If you're looking for a frequency to wash off your home's HardiePlank, try just once or twice a year. Sounds pretty great, doesn't it?
Spot Treatment
As you're rinsing off your siding, you might notice small mildew stains on certain parts of your home that tend to stay moist. It's as easy as a gentle swipe of a household cleaner with a cloth or paper towel. If it seems to be a bit more stubborn, simply allow the cleaning solution to sit on the spot for five or so minutes before scrubbing with a soft-bristled brush.
Keep an Eye Out
Another way to ensure that your HardiePlank continues to protect your home is to do occasional visual inspections. By walking around your home and checking for gaps or cracks in the caulking or siding itself will allow you to address minor issues before they become bigger problems. It's also important to note that with proper installation, these issues will be less likely to occur, so it's crucial that you have a qualified contractor perform the project. Luckily, we're recognized by James Hardie as the top Preferred Contractor in the Chicago area!
Choose SmardBuild for Your HardiePlank Project
As your local Chicagoland siding experts, we're ready to help you make a decision on the best exterior siding solution for your specific home. We're proud to offer free quotes and we make it easy to schedule a consultation by phone or by filling out a form here on our website.
Still have questions about HardiePlank or other siding options? We'd love to answer them for you! Get in touch with us and get one step closer to the remodel you've been dreaming of.
People have different preferences as regards siding installations. While some people may decide to go for vinyl sidings, others may rather opt for HardiePlank siding. But today, we are going to be discussing something quite different. We are going to do a comparison between horizontal siding and vertical siding.
We would be looking at a few considerable factors. Before we discuss these factors, let's briefly talk about these two sidings.
Horizontal siding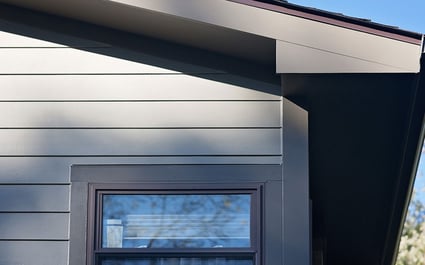 Horizontal siding is quite common and as such gives the house a traditional look. This type of siding may never go out of style as most siding industries or companies are quite common with its installations.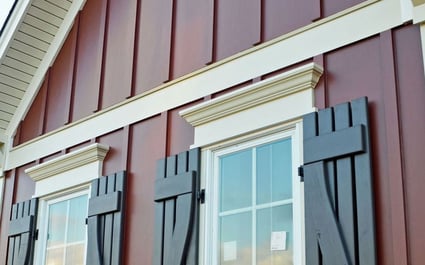 This kind of siding is somewhat rare as compared to the horizontal siding. If you installed vertical siding then it certainly means that your house is an eye-catcher. Also, you often find vertical siding on industrial buildings.
Ease of installation and cost of both Vertical and Horizontal sidings
Horizontal siding is quite common so this invariably ups its ease of installation as most siding contractors are familiar with it. When contractors install sidings easily and quickly, the cost becomes low.
Vertical siding, on the other hand, is more expensive and time-consuming when it comes to installation. Contractors have to make sure the strips are properly aligned with each other and as such, they get to charge you more as installing vertical sidings in industrial buildings are even more complex.
Durability and maintenance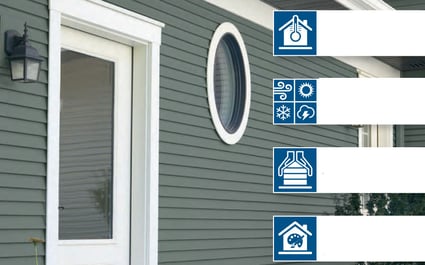 Both horizontal and vertical sidings are quite durable. However, the durability is quite dependent on the siding material in question. HardiePlank siding and a host of other brands that use fiber-cement, metal and vinyl are quite strong and are less susceptible to water damage as compared to wood siding.
However, horizontal siding is more prone to leakages as compared to vertical siding. This is almost deemed as common and the likely measure to be taken here is opting for a water-resistant siding such as HardiePlank siding.
You should also be wary of letting water seep through your siding during cleaning. In this regard, when cleaning your siding with a pressure washer, endeavor to point the pressure washer straight-forward and not at an angle. Pointing the pressure from an angle heightens the tendency of water getting behind your siding.
These are some core factors you should consider before installing vertical siding or horizontal siding. Most homeowners would rather opt for horizontal siding as vertical siding is more affiliated to commercial buildings and similar sorts. One core factor that trumps all factors is the siding material you're opting for. This has a lot to say about the durability, cost of maintenance and installation.
Get on board with James Hardie Siding
With James Hardie siding, you are certain to get the true value of whatever expenses you're incurring as your sidings would stand the test of time. James Hardie siding also offers discounts on specific purchases as well as providing top-notch installation services. Whichever siding you may decide to opt for, get on the Hardie board.
Siding color speaks to everyone differently. Some are drawn to light, clean colors, or bright, luscious hues, while others love dark, dramatic shades and neutral, earth tones.
We would love to recommend James Hardie Siding because it's very high quality and they can be primed and painted to whatever color you would like.
Remember when you choose the color for your home, It is important to combine the color of the siding with the surroundings of the home.
In today's blog, we've prepared a list of the five most popular siding colors in 2018. We carry over 20 siding colors from the latest trends to the old standards that will never go out of style.

1. Blue Color of Siding
Blue siding works beautifully all year long, Siding in this color represents water element, relaxation and confidence.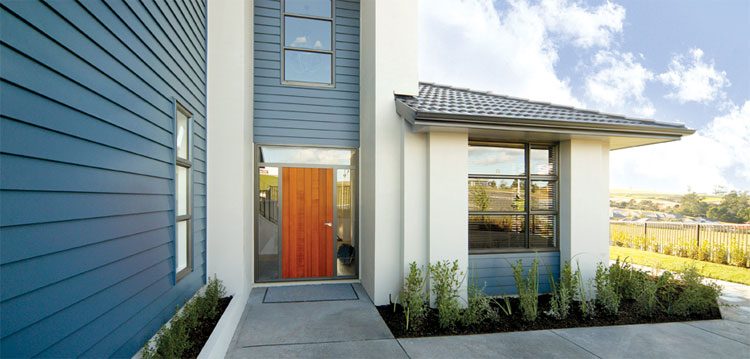 2. Beige color of Siding
If you want your home to look elegant with class select beige color of your future siding project. Furthermore, beige siding will be surrounded by a neutral, calm and relaxing aura.
This house is our latest siding project done in Naperville, IL (October 2017)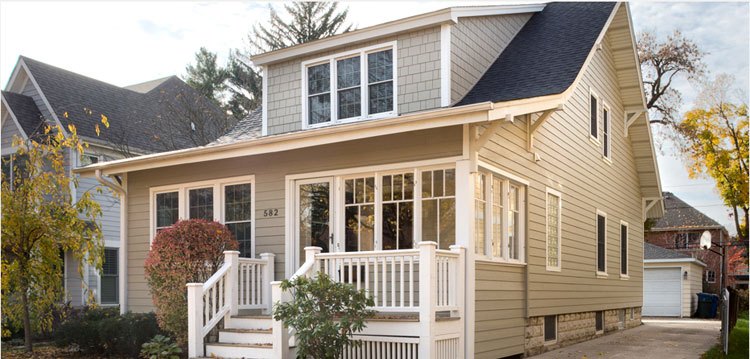 3. Green color of Siding
Green, the color of life, renewal, nature, and energy, is most often chosen for forest and mountains terrain.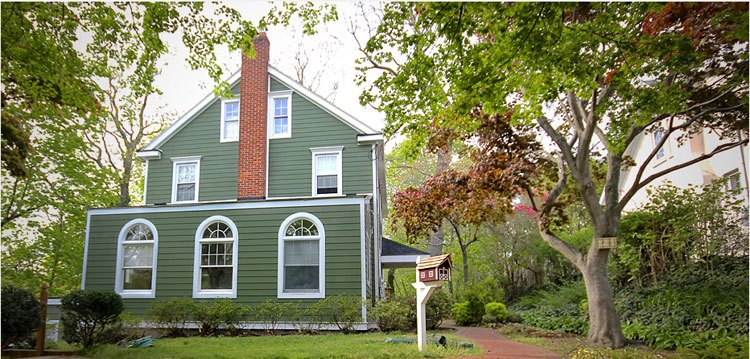 4. Gray color of Siding
Gray is a cool, neutral, and balanced color.
If you want your home to be timeless and practical at the same time choose gray siding color. This color is a lighter, truly neutral gray that is perfectly balanced between warm and cool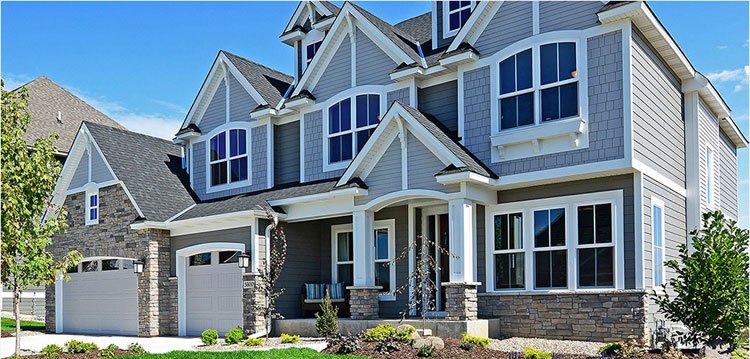 5. Brown color of Siding
The last on our list is brown. Brown, the color of earth, wood, stone, and elegance perfectly fits with forest areas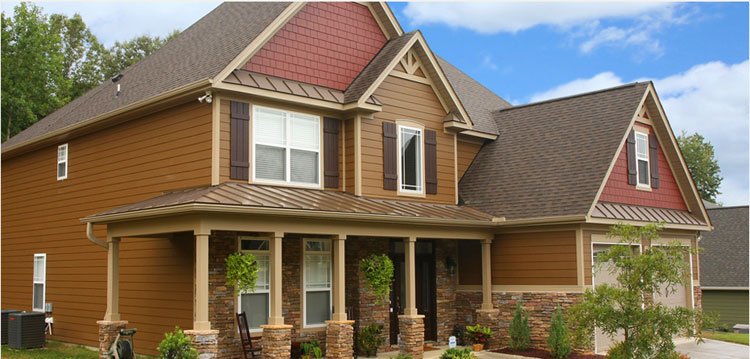 Peruse James Hardie's ColorPlus® Technology palette - its color experts narrowed down the thousands of color options to a list of well-curated siding and trim hues that all complement one another.
No matter which combinations you choose, it's designed to look great. From rich red to bold beige James Hardie has you covered.
If warm beiges turn your head, check out the sophisticated neutral, Sandstone Beige. This color is anything but boring; it's a refined neutral that's interesting and stylish. Sandstone Beige evokes the feeling of your favorite camel-colored leather bag, or the complex hue of worn-away stone.
See for yourself—here are a few homes clad in James Hardie® siding and trim in our favorite bold beige: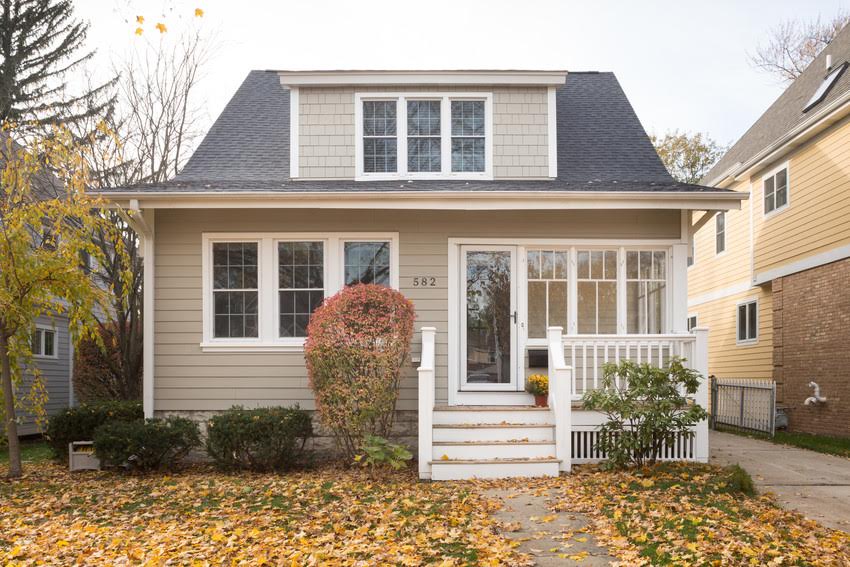 This Midwest bungalow is clad in HardiePlank® lap siding and straight edge HardieShingle® siding in Sandstone Beige.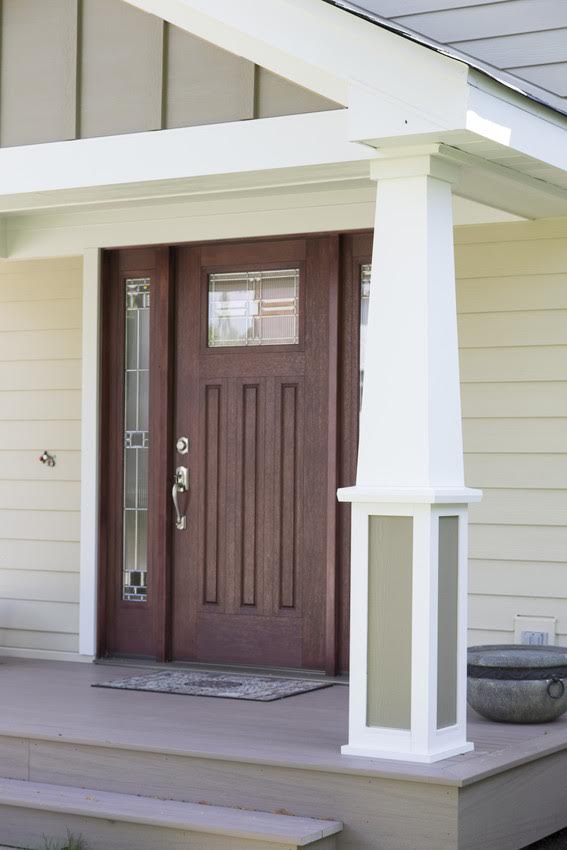 This close-up exterior shows off the home's HardiePlank lap siding in Sandstone Beige with HardiePanel® vertical siding in Woodstock Brown, and HardieTrim® boards in Arctic White.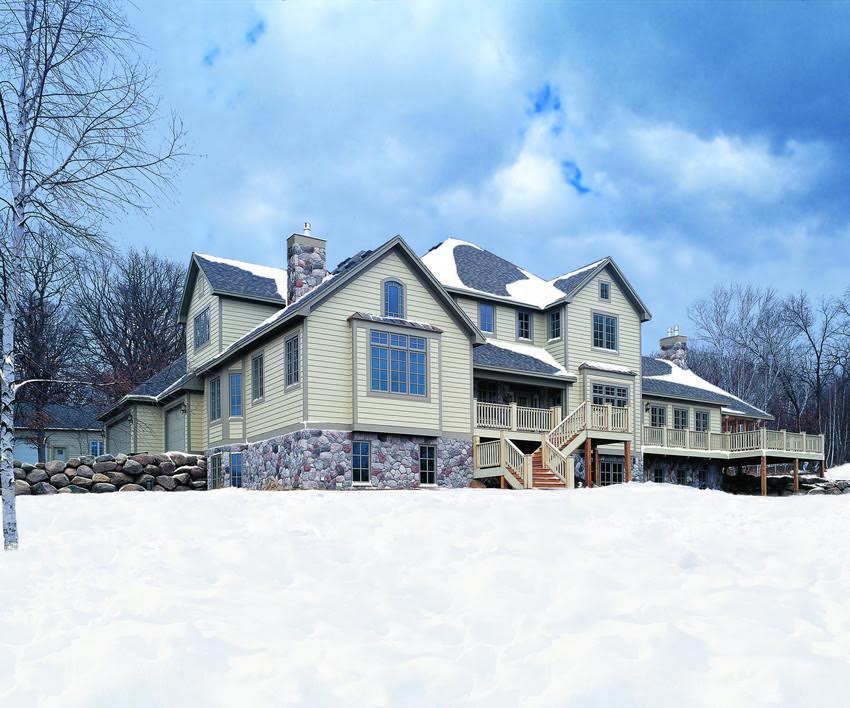 This massive Midwest home is clad in HardiePlank lap siding in Sandstone Beige with darker HardieTrim boards that seem to make the beige look richer and warmer.
Interested in other neutral shades in the palette? Check out soothing Sail Cloth and warm Cobble Stone.
Regardless of the siding and trim colors that you choose, when you side your home with James Hardie ColorPlus products you're gaining the benefit of ColorPlus Technology.
James Hardie's ColorPlus Technology is specifically engineered to help resist damaging UV rays, so your color will stay vibrant longer with lower maintenance.
Five Most Important Factors To Consider When Installing Fiber Cement Siding On Your Home
The vinyl siding on your home is starting to look very dull and unexciting. The color has all but faded away, leaving a lackluster appearance. Should you consider fiber cement for your re-siding project?
Here are five critical factors to think about when considering fiber cement for your re-siding project.
Fiber cement offers beautiful, long-lasting color options and is paintable
You love the idea of a rich brilliant color on your home, but don't want to watch it fade away like it did on your vinyl siding. Or, you may change your mind and want a different color someday.
Fiber cement siding options like James Hardie HardiePlank lap siding are available pre-painted and offer a broad range of color options. The paint used on this popular brand of fiber cement lap siding is treated with a baked-on proprietary ColorPlus Technology finish that locks in color and resists fading from UV rays.
Should you change your mind about the color in the future, James Hardie fiber cement siding is paintable and the paint will adhere to the cement siding much longer than traditional wood shingles.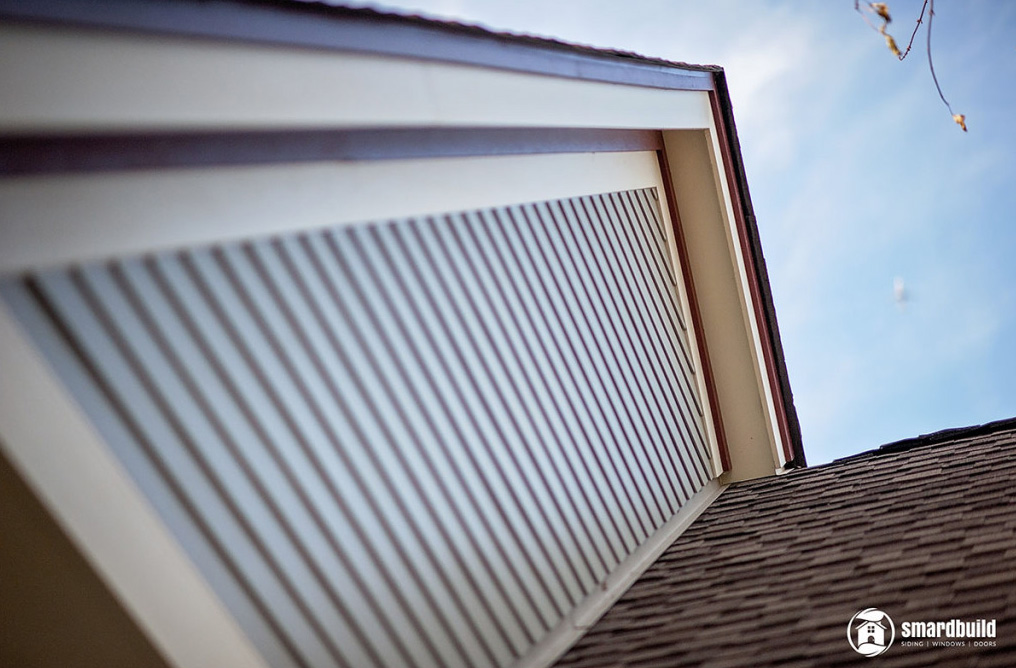 Natural-looking textures
If you're anxious to get away from the tired old look of typical siding, fiber cement is a great option. James Hardie offers a range of natural-looking textures and styles in its HardiePlank fiber cement siding line that add interest, dimension and beauty to the look of your home.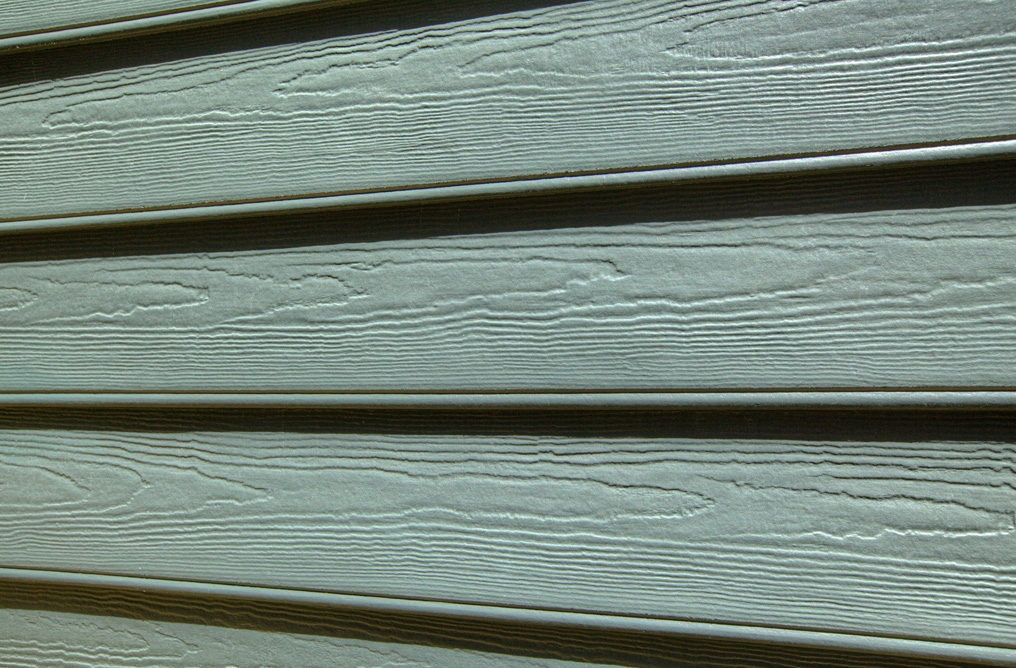 Resists impact damage
Fiber cement siding is strong enough to resist impact damage. Because it is significantly thicker than other siding types and made from inherently strong materials, it is strong enough to resist damage from the occasional flying object, misguided lawn mower and even hail or hard rain.
Fiber cement is sturdy, durable and holds up to weather
Temperature and humidity can force real wood and other types of siding to expand and contract. Over time this can cause cracking, decay and cost you money for repairs. Because cement is resistant to temperature fluctuation, it holds up well under extreme humidity and seasonal temperature changes.
Better return on investment
According to "Remodeling" magazine's 2015 "Cost vs. Value Report", fiber-cement siding returns 84% of its initial cost at resale vs. 80% with vinyl siding. In fact, fiber cement siding was one of the highest national average values in the report.
Contact Us Today For A Free, No-Obligation Estimate On Your Siding Project
Smardbuild Inc.
Main Office: 630-237-4205
Fax: 1-847-278-1992
email:production@www.smardbuild.com
Our Process
Step 1: Get in touch
If you're ready to start your exterior remodeling journey, we're ready to take your call! We can't wait to talk to you about your project and audition for your business. Fill out our contact form.
Step 2: Phone consultation
Send us a few photos of your home to have an informed first conversation about your future project. We'll discuss the details and schedule an in-person site visit if you're ready to take the next step.
Step 3: On-site consultation
We walk through the property together, take measurements and discuss your project while assessing for special circumstances that we will need to consider when planning your project. If you are interested in a 3D rendering of your project, we will take photographs to start this process. We recommend a 3D rendering. It's easy to communicate details when we can all easily visualize the project.
Step 4: Confirmation of project plan
At this step, you'll be able to review detailed estimates and 3D drawings complete with all the features we discussed during our visit. Our detailed and thorough process sets us apart. Your project plan will include a breakdown of the necessary materials and the timeline for your project.

We'll also review your communication preferences -- phone or email? We want to be sure to connect with you as efficiently as possible.
Step 5: Installation
It's time to make it real! You can expect our crews to arrive between 8 and 9 am each morning. We take pride in treating your property with respect and cleaning the area at the end of each workday. We ask that you set us up for success by clearing where we plan to work.
Step 6: Dealing with mother nature
We are working outside. Our crews will be right back as soon as the weather clears, but we can't do the quality we want to leave behind if we're fighting the elements. We expect these days and plan for them as we schedule your project. Thank you for your patience during these weather delays.
Step 7: Final walk-through
The project isn't over until you're happy with it. We do our final walk-through together to ensure that everything meets your approval. When you give us the okay, we pack up and leave you to enjoy your gleaming new exterior.
Explore James Hardie Products
Here's what customers say...
The high-level craftsmanship and personalized customer experience we deliver are what keep our customers happy and telling their friends about us. We can't wait to help you with your remodeling project.

Mark and his team did a terrific job and I could not be more pleased with the final work! Throughout whole siding installation process I was kept well informed about the progress and what will be next steps in the process. I'm living in Arlington Heights and anyone who is looking for great siding contractor can stop by my house and check their amazing work. I also plan on hiring them again for another siding project. That would be my parent's home. 🙂
Jessica D.
I researched over 30 companies, and had 5 come out to my house to give me estimates to install new vinyl siding. I ended up going with Smardbuild, and I am very happy that I did. They showed up on time, and finished the entire job within a week. And the quality of the work is the best part. They are perfectionists! I have never seen attention to detail like this. They even went above and beyond the job requirements. They installed aluminum flashing around my sliding glass door to make it look nicer, and that was not even part of the job. And to top it off, they installed 2 new wall lanterns that I bought at Home Depot.
Tim H.
We used Mark and his Smardbuild team to replace our roof, soffits, fascia, siding, upstairs windows, gutters and front door. All work performed is top notch. We went with Hardie soffits and fascia since we had prior issues with carpenter bees drilling holes in our old, wooden soffits. In my opinion Smardbuild is the best with Hardie products. Everything looks great. It took us a while to finally settle on a color for the siding and Smardbuild was quite patient with our process. After having issues with contractors in the past, it was refreshing to work with such a professional team that actually cares about the quality of their work. Thanks Smardbuild.
Peter P.
Ready to improve your curb appeal?
We're here to deliver remodeling services with higher standards.